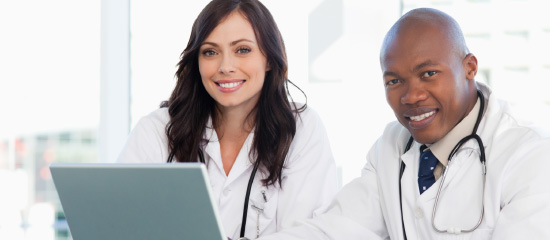 With the Ministry of Health phasing out dial-up modem Electronic Data Transfer by the end of 2014 and moving exclusively to web-based MCEDT (Medical Claims Electronic Data Transfer), JCL Medical has been spending quite a bit of time lately helping our clients set up their MCEDT accounts. In this blog post, we share our experience by providing a quick summary of the registration steps for MCEDT for both new and established physicians.
In general, all physicians must go through these steps to complete MCEDT registration:
Get a letter from the MOH with "unique identifiers"
Use these identifiers to register for MCEDT
Set up designee access if a billing agent is handling your billing
How a physician obtains the unique identifiers differs for new physicians and established physicians who are migrating from the old EDT system of file transmission, but once in possession of those identifiers, all steps are identical.
Step 1: Get your letter with Unique Identifiers
For New Physicians
For doctors getting their billing number in the past couple of years, there's a very good chance you were given your unique identifiers in the same letter that gave you your OHIP provider number (i.e., your 6-digit billing number).  At the bottom of that letter you will see instructions on how to complete your MCEDT enrollment and you'll find your unique identifiers there.
For Established Physicians Migrating from Old EDT
Beginning in March 2014, established physicians using regular EDT were sent out letters from the MOH with their unique identifiers.  If JCL's clients are a representative sample, many of these letters were not received or were misplaced ("Oh that? Yeah I got that but I didn't think it applied to me so I threw it out!").  If you have not yet received a letter, don't expect one at this point.  But that's ok – requesting a new letter is easy:
Draft a brief letter to physician registry requesting that a copy of your MCEDT registration letter be emailed to you, and specify the email address.
Include your EDT security codeword – if you don't remember it, you can add a phrase asking to 'release your security codeword for this purpose'.
Make sure you have your full name and provider number in clearly noted in the letter and sign it.
Fax the letter to 1-613-545-5848
Within about 10-14 days, you will receive an electronic copy of your registration letter with instructions and identifiers.  If you are a client of ours, we'll draft the letter for you and send it to you for signing.
Step 2: Enrol with MCEDT
With unique identifiers in hand, enrolling with MCEDT should be a straightforward and painless five-minute process.  But not if you use Internet Explorer as your web browser! For some reason, Explorer does not work well with the MCEDT portal, so it's best to download either Google Chrome or Mozilla Firefox.  You don't need to use this new browser for all your web-based surfing, just when you set up and use MCEDT.
So, open up Chrome or Firefox, go to this website and bookmark it.  This will avoid problems accessing the site in the future.
https://www.edt.health.gov.on.ca
Click the "Register Now" link and follow the instructions.  You will be asked for your name, email address, and will be asked to set up a password (write it down!) and your three security questions.  Hit "Register", accept the terms and conditions, and once you're told your "Registration is complete", you must close your browser.
This first part was just to make sure your email is valid.  So you now must open your email and find the message from Go Secure – you may have to check your junk filter for it.  Click the validation link which opens up the MCEDT login screen, enter your email address for Go Secure ID and the password you created a few minutes before, and sign in to your account. You  will then have to select either "New user" (for physicians who have two unique identifiers) or "Migrating user" (for physicians who have three unique identifiers).
Now you will be asked to enter your unique identifiers from Step 1 which are listed in your letter.  Click "Accept"at the 'Acceptable Use' screen and you can now log out because you've successfully completed your MCEDT enrollment!
Step 3: Setting up a Designee
If you handle your own billing, your MCEDT account registration is now complete.  But if you use a third party to do your OHIP billing, they will need access to your MCEDT reports to send claim files and make sure your claims are received by the Ministry of Health and paid properly.  This requires setting up your billing company as a "Designee".  It's important to note that your billing company won't be directly logging into your account.  Rather, once the designation process is complete, your billing company will be able to send and receive all of your reports from their own MCEDT account.
To set up a designee, you will need the email address and name associated with your billing company.  You can then open up Chrome or Firefox, go to the MCEDT log in page, and log in to your account.  Click on the "Designee Maintenance" link and select "Add Designee". Enter the appropriate information and your billing company will receive an email letting them know that you've invited them to be a designee.  They will have to log into their account and accept your invitation.  You will be notified via email that your billing company has accepted your invitation, but you're not quite done yet.
After being notified that the billing company has accepted your invitation, you still have to set permissions (select the reports to which the billing company will have access).  To do this, log in to your MCEDT account and select "Designee Maintenance".  You should now see your billing agent listed as a designee.  Beside their name click the hyperlink "MCEDT". This will reload a page with 3 options in a table: select MCEDT Service (Upload/Download). The next page will list a number of permissions for the designee: make sure all reports are checked off (they should be by default).  You must scroll down to the bottom of the page and select SAVE.  Many of our physicians have opened up this page, seen that the reports were checked off and assumed their billing company had access.  Not until you click SAVE will your billing company be able to send and receive files on your behalf.
You're all done – congratulations!
If you have any issues along with way, check out this manual that provides step by step instructions on all aspects of your MCEDT account:
http://www.health.gov.on.ca/en/pro/publications/ohip/docs/mc_edt_reference_manual.pdf
Or, if you're more of a 'talk to someone' person, give us a call at 416-259-7653 or 905-337-7150 and we'd be happy to walk you through it!